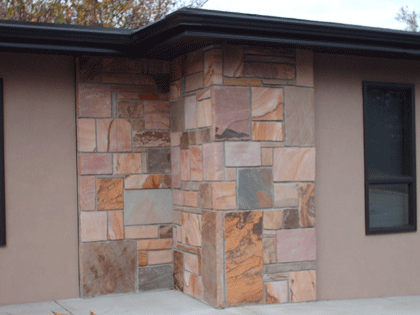 Our Stone is quarried from the Cumberland Plateau, a flat-topped mountain capped by a thick sandstone layer. The sandstone formed millions of years ago when material eroded from the ancient Appalachian Mountains was deposited in a vast river delta, ten times the size of the modern Mississippi River delta.

The quarries our stone is extracted from contain horizontal beds of varying thicknesses ranging in colors from pink, tan, buff, and gray with iron banding creating variegations running through them. Because of this, the rocks quarried are not only beautiful, but also a very sturdy and stable building material.
Products List
A quick list of all our products.
Click the name of any product to be directed to its product information page.
(Please note that there are no prices listed under any of this items. Please call, e-mail, or fax questions about current prices.)
For additional photos of our products click here.
Natural Bed Stone
Sawed Bed Stone
Field Stone